Nathaniel Hawthorne, 1804-1864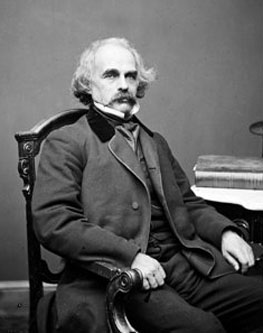 "Young Goodman Brown"; 1835
Summary
: A recently married "goodman Brown" meets with a man in the woods who coaxes him to go deeper into the woods. There he finds the "good" citizens of Salem with the "bad" of Salem, cavorting in a fiery devil-worship scene. He allows himself to stare at the scene, then tells his wife Faith to look heavenward instead of hell-ward. When he wakes up, he is distrustful of his fellow man, but has a family, but paradoxically dies in a "dying hour of gloom," i.e. he goes to hell.
Quotes
: "But, irreverntly consorting with these grave, reputable, and pious people, these elders of the church, these chaste dames and dewy virgins, there were men of dissolute lives and women of spotted fame, wretches given over to all mean and filthy vice, and suspected even of horrid crimes" (616).
"It shall be yours to penetrate, in every bosom, the deep mystery of sin, the fountain of the wicked arts, and which, inexhaustibly supplies more evil impulses than human power..." (617)
"Had goodman Brown fallen asleep in the forest, and only dreamed a wild dream of a witch-meeting?" (618)
Themes
: the matter of deciphering reality from fiction (the story suggests the scene was all a dream); religious questions of faith/Faith; difficulty of separating the moral from the amoral due to inner world of all people
"My Kinsman, Major Molineux"; 1832
Summary
: A young (eighteen years old) man named "Robin" approaches a New England town as a stranger, trying to start out in life with the help of his accomplished and rich military officer and uncle Major Molineux. He meets with a few townspeople, which seem reticent to offer him any information. In a public house, he is ridiculed, though he doesn't realize it. A "mistress" slams a door on him. Throughout the story Robin is very naive, and repeatedly describes himself as "shrewd." He optimistically keeps asking for the location of his uncle's house. Finally a man in the road with a "hooked nose" tells him that Major Molineux will be coming down the road within the hour. Meanwhile, Robin visits a church (his father is a country clergyman), and is awed at the urban church's architecture/holdings. He sees his uncle coming down the road, tarred and feathered, and after pausing, joins in the "hem" and "haw" of the crowd, shouting out loud at his own uncle.
Quotes
: "'I have the name of being a shrewd youth,' observed Robin..."
"There the torches blazed the brightest, there the moon shone out like day, and there, in tar-and-feathery dignity, sate his kinsman, Major Molineux!" (595)
"The contagion was spreading among the multitude, when, all at once, it seized upon Robin, and he sent forth a shout of laughter that echoed through the street...but Robin's shout was the loudest there." (596)
Themes
: The urbanization of New England; the conflict between the innocent (Robin) rural, religious upbringing versus the knowing, cultured, secularized urban space; human nature has both possibility of sublime awe and cruel, indifferent conduct/behavior.