I was reading a comment on Glenn Greenwald's column/blog on
Salon
, and saw this insight:

I have seen no surge advocates point out the futility of Bush and his henchmen advocating negotiations. For Bush, "negotiation" simply consists of putting out, in advance of any meeting, an extreme list of points for total capitulation for the other side and then washing his hands of the entire process when it predictably fails to get off the ground. For examples, see his "negotiations" regarding Iran, Syria and Congressional subpoenas.
This logical point, that political progress in Iraq and the Middle East is impossible under the adolescent-style rule of George W. Bush, must be granted. Since March 2003, it's been all war, all the time, and, arguably,
absolutely no progress politically --
only degeneration. The Israel/Palestine issue works the same way.
Bush is famous for not holding himself or his appointees accountable. Examples: Attorney General Alberto Gonzalez, CIA-outer Karl Rove, giving failed Coalition Provisional Authority head L. Paul Bremer and CIA Director George Tenet, "Heckuva Job" FEMA-head Michael Brown. Also: the inability to admit mistakes
without
the passive voice, i.e. "mistakes were made," not, "I made mistakes."
So, two hallmarks of the Bush presidency are
petulance
and a seeming psychological fear of accountability -- the ability to blame others when anything, no matter how small, goes wrong. There was torture that shocked the world at Abu Ghraib prison in Iraq? Well, it was a "few bad apples," not the oral directive from the Department of Defense to "take off the gloves."
Onto this list I of hallmarks of the Bush presidency I would add an obsession with privacy (their own privacy while giving others no privacy -- i.e. the illegal surveillance program), "executive privilege," and simple little-boy-wanking secretiveness.
Another hallmark is the willingness to disregard the rule of law. It's a law to not give out the identity of undercover CIA agents, it's a law that the Executive Branch must consult a FISA court to get a warrant to monitor US citizens, it's obstruction of justice to fire US Attorneys in the middle of investigations of Republican politicians.
Then, the thing that makes George W. Bush such a great "war president" is the Iraq War, a pre-emptive war, started under lies and false pretenses. The Iraq War gives a reminder of the
character
of our president, just as his court has been telling us all along. He is a liar, irresponsible, petulant, immoral, unwilling to change course, and unfeeling and inconsiderate of the deaths of US soldiers and innocents alike.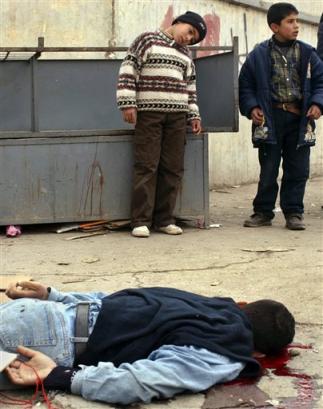 George W. Bush is the Worst President Ever, a cancer on our society. Until we get rid of him, there will be no progress. And once he is gone, we will be dealing with the consequences of his adolescent rule for decades. The sins of the father shall be borne on the son.
-----
List of Bush Administration hallmarks:
1) Petulant, childish mode of interaction with all people not "on their side"
2) Total unwillingness to admit responsibility
3) Obsession with privacy
4) Willingness to disregard the law