Today I got up at about 5:30 a.m. Really nice time for Tucson, especially since it rained yesterday and it's more moist than usual. I went and played basketball and lifted weights. Now I need to work on my paper junk I've been so ably putting off.
I've been talking about not continuing in this graduate program after earning my master's degree. This fills my wife with a great degree of consternation, it seems. She gave me a speech about "having a good job" -- i.e. a job with Social Position and Money. She told me to "make a five year plan" -- where my "life would be" in that amount of time. What I would own, where I would live, and so on. What kind of warped mind would make plans like that? I want to own little and be free, with a little money to live comfortably, release minimal emissions into the air, and I want to be in excellent health with little body fat and high energy. I want to write my thoughts somewhere. What else is there?
All this pressure really irritates me. Unlike my wife, I can pay my bills and not be too attached to work. And I'm nice to people. What other ethical consideration should there be?
O, Good Lord, let me be like Count Leo Tolstoy, and be poor, and write "worse than Shakespeare."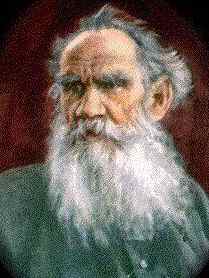 Honestly, I might end up being a certified personal trainer for a while, and then get some training in some high intensity speed junkie work, like being a paramedic, maybe in a helicopter. Or as a high school English teacher and coach, but that doesn't sound that great. But neither does continuing in grad school and hating it even more. Left to my own devices, I would have amazing difficulty writing a dissertation. I just can't stand writing this literary criticism stuff.
Oh, if only life really followed the narrative arc of the English
bildungsroman
-- I'd figure out my career and sire children, and live in the country within sight distance of bloody London.