For a couple of weeks, I have been wavering in my support of Hillary Clinton's presidential bid. Barack Obama looked better and better -- a real groundswell of support. He's cornered the "change" market, and God knows we need change in this country.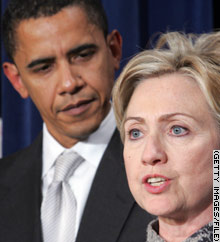 However, news that John McCain is only raising a trickle of support emboldens me to support Hillary again.
This table
shows that in January 2008, Obama raised $37 million, Clinton $20, and McCain only $13. Romney, whose campaign of course went to pasture in January, raised $17 million.I do think that the country would be better off with the wheeler-dealer Hillary in the White House. But Obama could do great things -- he does, indeed, have a tincture of Abe Lincoln and John F. Kennedy, or at least he knows how to put off that energy. Brilliant, in any event.
To conclude, the GOP is running an Old Coot that their base does not believe in. All indications point to a cakewalk for the Dems, which is appropriate considering that it was George W. Bush's supposed "cakewalk" in Iraq that was supposed to seal a permanent Republican majority.
The historical precursor is the Dole/Kemp 1996 campaign, where an aging longtime Senator received a thorough shellacking in the general election, by the energetic campaigner Bill Clinton. I am so happy to see the real America represented in the large crowds and donors for Clinton and Obama. May the GOP/Bush/Rove method of writing questions for "townhall" attendees, who are exclusively Rethuglican loyalists, never return.
But remember: there's no such thing as a cakewalk -- in Iraq or in politics. Hillary or Obama, I am proud to be on the moderate academic-secular Left right now.