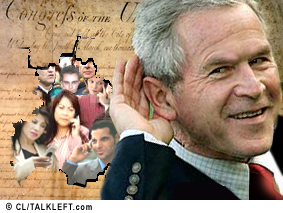 Why is it that the law seems to never touch those in power, except in the rarest cases?
I dislike President Bush and his Administration so much that although I admit that the FISA bill may have been outdated for the internet age, I still think Bush should be prosecuted for breaking the law. He's just a bad, unthinking person and a worse leader who has so besmirched America that he does not deserve the trappings of a post-presidency retirement. At least Nixon got the US military out of Southeast Asia for the most part (from 1971 to 1974). Bush escalated an immoral, indefensible war without end -- spilling blood for oil.
There needs to be a judicial ruling that would leave some kind of taint on him, for Bush 43 has tainted our country to the point of being unrecognizable.
It astounds me that a Democratic Congress would jump over each others' backs like rats to vote for the FISA capitulation and give Bush and Cheney everything they want -- both are politically toxic to everyone outside of the Beltway Bubble. Earth to Congress! No one likes the job you're doing.
This poll
shows Americans' disapproval.

The percentage of voters who give Congress good or excellent ratings has fallen to single digits for the first time in Rasmussen Reports tracking history. This month, just 9% say Congress is doing a good or excellent job. Most voters (52%) say Congress is doing a poor job, which ties the record high in that dubious category.

The only presidents worse that Bush 43 are the ones who hastened and worsened the Civil War. I will grant the man that.