Two visual examples of putting on airs and projecting deep psychological desires: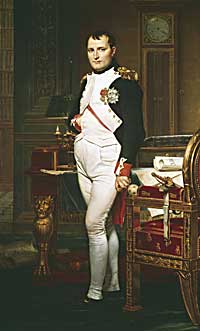 My brother's
blog
.
A good reading/interpretation of any medium of communication (visual art, writing, photography, etc.) will necessarily say much about the soul of its creator.
This was Henry James' idea, and my professor Dan Toft's (of BVU) idea, and an idea that I'd like to take seriously and use for interpretation.
With such a rubric, Kristol and Brooks become equal in their moral repugnance, although you are right, E. Schenck, that Brooks is the less articulate. Both are knaves, both are chatterers, both have a basic lack of virtue.
And think of George W. Bush's "heh heh" in front of the press. The man has a brutal, insecure, inconsistent, untrustworthy soul. W. sickens Mr. Toft, because Bush first lacks knowledge, then he mocks all cultural goodness with his brutality and self-centeredness.
What happened to virtue in our country? So many Beltway personalities -- Brooks, Kristol, and Bush are only the tip of the iceberg -- can only be described as Hollow Men, cf. Eliot. Can anything good come of such people? May one believe a single word they speak or write?