This was a fun
article
to read; the writer documents why the Vikings' head coach is the wrong man for the job.
Funny how an MBA might analyze a leader's characteristics in the same way that an English person might think about a character's psyche in a novel.
In any event, Brad Childress is one of the worst NFL coaches out there.
But on a separate note, Bill Callahan
should
be getting the Nebraska Cornhuskers back in business. He's a big personality, willing to take risks, he's had experience coaching at higher levels (like the NFL Raiders); he's no "cog." Why aren't the Huskers making progress?
Another thing the article made me think about: our 43rd President. George W. Bush has a "big" personality (based on arrogance and not substance), has a problem taking responsibility, lacks creativity in solving problems, has little interest in how information or "intelligence" can help make better decisions, and did not distinguish himself in his previous jobs. As a part-owner of the Texas Rangers, he was more public face/cheerleader than strategist (trade Sammy Sosa!), and as Governor of Texas, his main "accomplishment" was in executing death-row inmates.
Childress will soon get fired, Callahan will resign unless progress is made, and Bush will go on to make his presidential library and speak for thousands of dollars to his 25-percenters.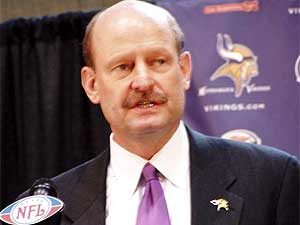 (Brad Childress, more accountant than CEO)